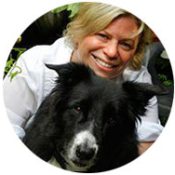 Sydney Bleicher, KPA CTP, Fear Free Certified Professional
Sydney Bleicher owns and operates freshpuppy and is the Director of Training for Ultimate Puppy and co-creator of the Ultimate Puppy Toolkit and utimatepuppy.com.
Sydney graduated with distinction from the Karen Pryor Academy and earned the designation of Karen Pryor Academy Certified Training Partner. She is also a member of the Association of Professional Dog Trainers and a supporting member of the International Association of Animal Behavior Consultants. 
Sydney has been coaching folks and their dogs since 1992. In 2000 she decided to concentrate her efforts exclusively on early puppy education, focusing on educating people about the importance of early socialization and preventative work with their new puppies.
Sydney has seen the emotions that go along with raising a new puppy and believes in a good dose of TLC for the new puppy parent. This personal attention and TLC are a big reason why many people enjoy working with her so much.
Sydney has written for Bark Magazine and Riverside Quarterly and has been featured on City TV's Animal House Calls and Breakfast Television.
Syd opened our eyes to the idea that training a puppy is about training ourselves to be responsive, watchful, and to set Olive up to succeed. That socializing a puppy means helping them become good citizens. She was our help desk call support when we needed quick advice. We recommend her enormously.
Jason & Kirk (& Olive, who truly LOVES being dried off)
About UltimatePuppy.com
A major accomplishment of Sydney's career has been the collaboration with long time friend and colleague Peggy van Dam. Together they created the Ultimate Puppy Toolkit, first published in 2002. The toolkit was revised in 2005 and in 2014 was made available as a free online resource, at utimatepuppy.com.
Together Syd and Peg continue to work to foster cooperative links between accredited breeders, professional trainers and the veterinary community. Their goal is to see that anyone getting a puppy has access to a more integrated network of services and information.
Why Choose a KPA CTP?
"Selecting a Karen Pryor Academy Certified Training Partner (KPA CTP) … means that your trainer:
Is skilled in using positive teaching and training techniques with you and your pet to make training fun.
Is educated about using science and behavior-based methods to make training more efficient.
Can customize a training program specifically designed to help you and your pet communicate and succeed together.
Participates in programs for quality assurance and continuing education to ensure the training you receive is based on modern research and technology.
Pledges to teach and train using force-free principles so that you and your dog develop a bond built on trust and respect."
We recently brought home a 6 month old Sheltie (Gracie), so we have turned to Syd again for her wisdom and guidance. Syd is very analytical, thorough, and thoughtful during her sessions. The follow-up homework is truly helpful.
Debbie and Yvonne, Tucker and Gracie
NEW PUPPY BLUES? I'M HERE TO HELP.